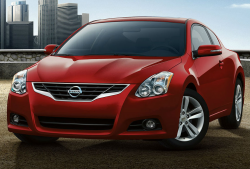 — Nissan North America is recalling over 123,000 model year 2013 Altima vehicles because of spare tire problems.
Nissan said the spare tires may have been significantly over- or under-inflated. That might sound like a minor issue, but it's not if you happen to have a flat tire and find the spare tire is out of order.
Once Nissan discovered the problem, they found spare tires that were significantly over-inflated would quickly deflate because the tires had been exposed to high temps in the trunk.
The problem was traced to a spare tire inflation machine that had a malfunctioning pressure regulator, and the pressure gauge used to check pressure was not calibrated correctly.
Nissan said the affected vehicles were manufactured March 21, 2012, through March 26, 2013.
The recall should begin May 3, 2013. Nissan dealers will inspect and adjust the spare tire pressure.
With questions or concerns, contact Nissan at 800-647-7261.