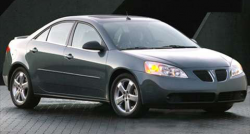 — The Office of Defects Investigation, a part of the National Highway Traffic Safety Administration, has opened an investigation into 2005-2009 Pontiac G6 vehicles after receiving 212 complaints about brake light and cruise control problems.
Pontiac owners complain their brake lights illuminate when the brake pedal has not been depressed, or the lights don't work when the brake pedal is depressed. In addition, the cruise control may not engage, or will disengage unintentionally.
Pontiac G6 owners have for years complained about these problems, and in September, 2008, the feds opened an investigation into allegations of brake light malfunctions on 2005-2007 Pontiac G6 vehicles.
The investigation led to a recall of model year 2005-2006 G6 vehicles, but only those that were manufactured in January, 2005.
Owners tell CarComplaints.com the problems are not only dangerous, but can get expensive when law enforcement get involved.
"When I'm going down the highway at night my brake lights are on and when i touch my brakes my brake lights turn off," wrote Michelle, of Omaha, Nebraska. "I've been to the dealership 3 times and they still don't know what is wrong."
A New York G6 driver said they suddenly saw red lights in their rear-view mirror after experiencing the brake light problem.
"The brake lights are stuck on when I accelerate and go off when I brake. I've called about ten mechanics and nobody has heard of the problem before. I have gotten pulled over by the police twice and so far have had one ticket."
This latest investigation will try to determine if another safety recall should be ordered. CarComplaints.com will keep you posted.