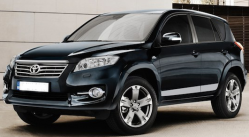 — Millions of vehicles are recalled each year in the U.S. for safety defects and 2012 was no exception. From exploding sunroofs to the more usual problems related to air bags and roll away vehicles, 2012 saw major automakers dancing on their toes to keep step with recall campaigns.
According to data compiled by the Detroit News, no automaker recalled more vehicles in 2012 than Toyota.
Toyota recalled 5.3 million vehicles in 2012, the third time in the last four years they have been crowned recall king. Their closest competitor for the title was Honda, with 3.4 million vehicles recalled during 2012.
Last June, Toyota recalled over 152,000 Lexus 2010 RX 350 and 450h vehicles over fears the floor mat could cause the accelerator pedal to stick.
At nearly the same time, the government was investigating rear suspension failures of model year 2006-2008 Toyota RAV4 vehicles, which lead to the recall of about 760,000 Toyota RAV4 and 18,000 Lexus HS 250h vehicles.
In October, Toyota announced a massive recall of 2.5 million U.S. vehicles because a faulty power window switch could potentially melt and cause a fire.
Then in November, Toyota announced a recall of specific Scion iQ vehicles because moving the front seat could cause failure of the air bags. That was the same month Toyota announced two recalls involving about 670,000 model year 2004-2009 Prius vehicles to inspect and replace the steering intermediate extension shaft, and because of problems with the water pump.
And November wasn't done yet. Toyota further announced that month the recall of 150,000 Tacoma vehicles originally sold or currently registered in 20 cold climate states and the District of Columbia to inspect and replace the spare tire carrier assembly.
Finally in December, the National Highway Traffic Safety Administration (NHTSA) said Toyota had agreed to pay $17.35 million, the maximum fine allowable under the law, in response to the agency's assertion that the automaker failed to report a safety defect to the federal government in a timely manner.
That was the single highest civil penalty amount ever paid to NHTSA for violations stemming from a recall.