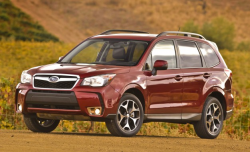 — We might be eight months away from the year 2014, but Subaru is already recalling 10,137 model year 2014 Forester vehicles because of floor mat problems.
Subaru says there is a problem with the backing on the carpeted floor mats that can cause the mats to curl when exposed to heat.
Considering all the previous recalls involving floor mats interfering with gas pedals, it's easy to see why Subaru wants to take care of this problem now.
According to the National Highway Traffic Safety Administration, the recalled vehicles were manufactured from January, 2013 through March, 2013.
Subaru dealers will replace each of the vehicle's four carpeted floor mats with new ones. Subaru will issue an interim recall notification by the end of April, 2013.
Owners can contact Subaru at 800-782-2783 and refer to recall number WQH-44.