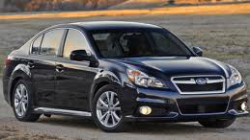 — It's not often a simple key fob is the cause of a nationwide recall, but that's exactly the case with 47,419 Subaru vehicles.
According to documents filed with the National Highway Traffic Safety Administration, Subaru is recalling 2010-2013 Legacy and Outback, 2012-2013 Impreza, and 2013 XV Crosstrek vehicles equipped with an automatic or CVT transmission and an Audiovox remote engine starter accessory.
Subaru says if the remote engine starter fob is dropped, it could start sending signals to the vehicle without the need to push the button. Thing is, it will keep doing this without you knowing it.
According to Subaru, the engine could start and run for 15 minutes, shut down, then restart and keep repeating the process until the fob battery is dead or until the vehicle is out of gas. If the vehicle is enclosed in a garage or building, carbon monoxide could easily harm a human or animal.
The recall is expected to begin by the end of April, 2013. Subaru dealers will replace the remote engine starter key fobs, free of charge.
Owners can contact Subaru at 800-782-2783 and refer to recall number WQF-42.
Related Subaru Reading: