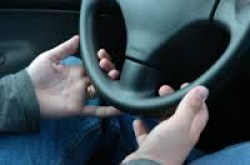 — Air bags are supposed to protect us in a car crash, but millions of us have been driving vehicles the last 10 years with air bags that could actually harm us.
According to the National Highway Traffic Safety Administration, millions of vehicles are under a recall because an air bag deployment could cause shards of metal to fly around the cabin of the vehicle. The problem was traced to Takata, a Japanese company that makes the explosive wafers used in air bags.
When an air bag deploys, a mini-explosion of gas takes place inside the air bag inflator. It's supposed to be a controlled explosion, but too much force can cause the metal canister to fail under pressure.
Makes and Models Recalled
Honda is recalling the most vehicles — over 1 million vehicles worldwide, including 561,000 in the U.S. Honda said the vehicles in the U.S. include 426,000 model year 2001-2003 Civic, 43,000 model year 2002-2003 CR-V, and 92,000 model year 2002 Odyssey vehicles.
Nissan said over 480,000 of their vehicles are recalled worldwide, with almost 266,000 of those in the U.S. The recalled models include the 2001-2003 Maxima, Sentra, Pathfinder, Infiniti I35 and Infiniti QX4.
Toyota said they were recalling the 2001-2003 Corolla, Matrix, Sequoia SUV, Tundra, and Lexus SC 430. Toyota said about 510,000 of these vehicles are in the U.S., while the total worldwide number is close to 1.7 million.
General Motors will recall about 55,000 model year 2003 Pontiac Vibe vehicles in the U.S. and Canada.
Mazda is recalling the 2003-2004 Mazda6 and 2004 RX-8, but there are only about 149 affected vehicles in the U.S. That number climbs close to 20,000 worldwide.
BMW says over 200,000 of their vehicles are affected worldwide, including 42,000 in the U.S. The recalled vehicles are model year 2002-2003 325i, 325xi, 330i, 330xi sedans; 325Ci and 330Ci coupes and convertibles; 325iT and 325xiT Sports Wagons; and M3 coupes and convertibles.
If you own any of the affected vehicles, keep close watch on your mail for a notice from your manufacturer. It's expected that most of recalls should begin in May, 2013.
Takata Air Bags
Takata first learned of the issue in October, 2011, when the problem occurred during an air bag deployment in Japan. The following month, the same problem occurred in a vehicle in Puerto Rico. More incidents followed a year later in Puerto Rico and Maryland.
Takata said the propellant wafers produced at a plant in Moses Lake, Washington, between April 13, 2000 and September 11, 2002, may have been produced with an inadequate compaction force. The propellant could deteriorate over time and cause too much combustion, which could cause the body of the inflator to rupture during air bag deployment.
Takata also placed blame on a plant in Monclova, Mexico. Propellant wafers used in inflators at that location between October 4 , 2001 and October 31, 2002, may have been exposed to uncontrolled moisture. Those wafers could have absorbed moisture beyond their limits and cause too much expansion in the metal canister.
This article was originally published on April 12th, 2013.