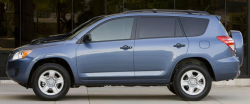 — For the second time, Toyota is recalling the same 780,000 vehicles that were first recalled in August, 2012, and for the same problem.
The whole fiasco started in June, 2012, when the National Highway Traffic Safety Administration opened an investigation into rear suspension arm failures. That investigation focused on model year 2006-2008 Toyota RAV4 vehicles.
Two months later a recall was ordered targeting over 760,000 Toyota RAV4 and 18,000 Lexus HS 250h vehicles. The affected vehicles involved model year 2006-2011 RAV4 and model year 2010 Lexus HS 250h vehicles sold in the U.S.
All the vehicles were manufactured from October, 2005, through September, 2010.
According to Toyota, if the nuts on the rear suspension arm are not tightened according to specification following a rear wheel alignment, excessive play can occur at the threaded portion of the arm.
After time, rust can form. This can cause the threaded portion of the rear suspension arm to separate. Failure of the suspension arm can cause a driver to lose control of the vehicle.
When the original recall was announced, Toyota didn't say how they were going to fix the problem. What dealers eventually did to remedy the problem didn't work, so Toyota has updated the repair procedures.
Keep in mind that every vehicle in the original recall will now need to be returned to the dealer for this second fix.
Toyota dealers will inspect the tie rods and replace any that have rust or corrosion on the alignment adjustment threads. Then, all of the rear tie rods will be encased in an epoxy to prevent future damage.
Here's the kicker: Toyota says parts are limited, so the recall remedy won't be available for everyone at the same time. The recall will be launched in phases from September, 2013, through February, 2014.
All owners will receive notification of the recall, with most receiving second notifications when parts are available in their area.
Owners can contact Toyota at 800-331-4331.