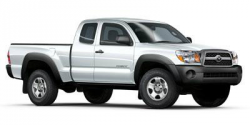 — Over 342,000 model year 2004-2011 Toyota Tacoma Access Cab vehicles will be recalled because of seat belt problems.
Toyota said they received a few reports about problems within the driver and front passenger seat belt assembly. A subsequent investigation showed screws that attach the seat belt pre-tensioner to the seat belt retractor can become loose over time due to repeatedly and forcefully closing the access door.
If the screws come loose, the seat belt pre-tensioner and the retractor spring cover could detach from the seat belt retractor.
Toyota said they aren't aware of any accidents or injuries associated with the problem.
Toyota hasn't provided notice about when the recall will begin. Once things are moving, dealers will inspect the seat belt assemblies and based on the findings, the seat belt assembly will be replaced or new pre-tensioner screws will be installed. Dealers will use a thread-locking sealant and a retractor spring cover with stopper ribs to prevent loosening of the screws.
Owners of the affected vehicles will receive a notice by postal mail. Until then, call Toyota at 800-331-4331 with any questions.