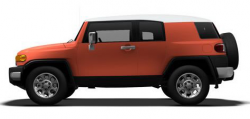 — Toyota today announced they will recall about 209,000 model year 2007-2013 FJ Cruiser vehicles because of problems related to the rear door panel.
Toyota said cracks can appear on the door panel when the door is constantly forcefully closed. If a crack is near the lower seat belt retractor anchor, the retractor can come loose from the door panel.
That anchor holds the seat belt retractor for both front passengers, which means any forceful movement against the seat belt in even a small crash could pull the retractor out of the door panel and make the seat belt useless.
Toyota said they haven't received any reports of accidents or injuries because of the problem.
There is no official word about when the recall will begin or what the dealers will do to fix the problem.
Affected FJ Cruiser owners can contact Toyota at 800-331-4331 or visit www.toyota.com/recall.