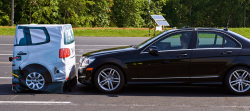 — The Insurance Institute for Highway Safety (IIHS) is typically known for crash-testing vehicles to inform the public which cars are the safest when the unthinkable happens. As the U.S. focuses toward a driverless car, the IIHS has expanded their research to technologies that can help a vehicle avoid a crash before it occurs.
Crash avoidance systems can add thousands of dollars to the cost of a vehicle and although some new technological wonder might sound impressive, it's useless if it doesn't decrease accidents.
For crash avoidance technologies, the Institute developed a three-tier rating system of superior, advanced, and basic. Based on available research, even a basic forward collision warning system can help.
A forward collision warning system alerts a driver when a vehicle is about to crash into the vehicle in front, but the system doesn't slow down or stop the vehicle. Some forward collision warning systems are combined with an autobrake system to slow down the vehicle, but they aren't designed to avoid the collision.
Other autobrake systems can slow down or completely stop the car to avoid some crashes if its driver doesn't brake or steer out of the way in response to a warning.
The Institute conducted a series of five test runs at speeds of 12 and 25 mph. An engineer drove the vehicle toward a stationary target designed to simulate the back of a car. Sensors in the test vehicle monitored its lane position, speed, time to collision, braking and other data.
Seventy-four moderately priced and luxury model year 2013-2014 midsize cars and SUVs were the first to be tested. However, thirty-six models either don't offer a front crash prevention system, or they have a system that doesn't meet the criteria for testing.
Seven earned the highest rating of "superior" when equipped with optional autobrake and forward collision warning systems.
Subaru's EyeSight performed best. It helped the Legacy and Outback avoid hitting the target at both test speeds.
Next best was Cadillac's Automatic Collision Preparation. The system helped the ATS and SRX avoid hitting the target in the 12 mph test and reduced the ATS's speed by 15 mph and the SRX's speed by 19 mph in the 25 mph test.
In addition, the Volvo S60 and XC60 earn an advanced rating when they aren't equipped with an option called Collision Warning with Full Auto Brake and Pedestrian Detection.
The S60 and XC60 are the only models in the new test program with standard autobrake. Called City Safety, the system brakes to avoid a crash in certain low-speed conditions without warning the driver before it takes action.
Six models earned an "advanced" rating when equipped with autobrake and forward collision warning.
Twenty-five other vehicles earned a basic rating.