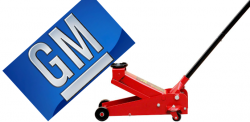 — Although saying it's not currently an official recall, General Motors has ordered dealers to stop selling the model year 2015 Chevy Corvette because of air bag and parking brake problems.
About 2000 of the sports cars might have air bags that could fail in a crash because of a defective part that attaches the air bag to the steering wheel. GM didn't say much about the problem other than to say all sales have been halted and shipments have been stopped from the GM assembly plant in Bowling Green, Kentucky.
Another 800 model year 2015 Chevy Corvettes have parking brake cables that might not have been installed properly. Dealers will need to make sure the parking brake is operational on both brake drums.
The National Highway Traffic Safety Administration hasn't said a word about any of this and might not if nothing turns into an official recall. However, if enough Corvettes have already left dealer lots and in the hands of owners, GM might have to use the dreaded "recall" word and add to its growing number of recalled vehicles in 2014.
That number has worked its way past 29 million as of September 1, 2014.
This isn't the first time GM has experienced problems with its Chevy Corvette this year, as you can see below.