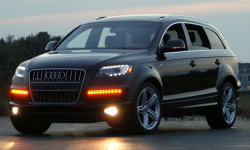 — Volkswagen is recalling over 1,800 model year 2013 Audi Q7 cars because they could lose all power braking.
Volkswagen first learned of the problem in February 2013, and later found 13 incidents of power brake loss. VW determined a manufacturing problem could cause a check valve in the engine to become contaminated with plastic debris and allow oil to leak into the brake booster. With engine oil leaking into the brake booster, the brake booster diaphragm can rupture and cause a loss of power brakes.
A sudden loss of power braking could be dangerous, but VW said it is unaware of any accidents or injuries related to the defect.
The recall began on September 24, 2014. VW dealers will replace a vacuum line in the affected 2013 Audi Q7 cars. Further, the brake booster system will be inspected for oil. If oil is found, VW will replace additional components, although the automaker didn't say what those components are.
VW will reimburse you if you have already paid to have the problem repaired, but you'll need to show proof of the repairs.
Owners of the 2013 Audi Q7 can contact Audi at 800-253-2834 and refer to recall number 47L8.