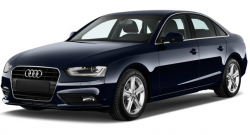 — Audi is recalling A4 cars worldwide because of air bag problems, although Audi says the air bags weren't made by Takata, the company responsible for millions of recalled vehicles.
Audi says 850,000 A4 cars delivered after 2012 have software problems that can make the air bags useless in a crash. Audi isn't saying much more and the National highway Traffic Safety Administration hasn't released any information yet, but the automaker recently made changes to the software in the A4.
Those software changes are thought to be what needs to be done to the 850,000 A4s.
It's believed 250,000 A4 models are in China and 150,000 are located in Germany. The remaining 450,000 A4s are located elsewhere but the automaker didn't say where.
CarComplaints.com will update this page when additional recall information is available.