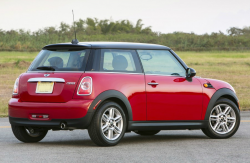 — BMW is recalling 5,800 model year 2014 MINI Cooper Hardtop 2-door cars because the spare tires could fall away from the cars.
BMW says the spare wheel, located under the car, might be attached with a nut that doesn't lock in place. The nut is supposed to be self-locking, but after a report from Germany, BMW found the nut shouldn't have been used in the first place.
Further investigation found it was possible for the nut to loosen due to road vibration and cause separation of the spare tire and its carrier from underneath the vehicle.
Real damage could be done if a spare tire drops from a MINI Cooper while traveling at highway speeds.
The MINI Cooper recall is expected to begin in November 2014. BMW dealers will replace the spare tire retaining nut with a self-locking nut.
Owners of the 2014 MINI Cooper Hardtop can contact BMW at 866-275-6464.