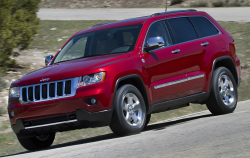 — The influential Center for Auto Safety (CAS) has petitioned the National Highway Traffic Safety Administration (NHTSA) to open an investigation into failures of Totally Integrated Power Modules (TIPMs) in Chrysler vehicles.
CAS names the affected vehicles as the 2007-2015 Chrysler Grand Voyager, Chrysler Town & Country, Dodge Durango, Dodge Journey, Dodge Grand Caravan, Dodge Ram Cargo Van, Dodge Nitro, Dodge Ram 1500, Dodge Ram 2500, Dodge Ram 3500, Dodge Ram 4400/5500, Jeep Grand Cherokee, Jeep Liberty, and Jeep Wrangler.
CAS estimates the total number of affected vehicles is about 7 million.
The TIPM handles numerous functions of a car and a defective TIPM destroys those functions. A defect can cause a car to stall, lose all electrical power, block the ability to start a car, cause the fuel pump to stay on and cause the air bags to fail.
The petition points out that CarComplaints.com lists TIPM complaints on 2011 Jeep Grand Cherokees as the number one most frequent complaint, with 2011 Dodge Durango TIPM complaints coming in second.
For a small example of TIPM complaints on the 2011 Jeep Grand Cherokee:
"Two years ago I traded in my 2010 Dodge Grand Caravan after the TIPM was replaced 3 separate times within one year. Imagine my extreme disappointment as I sit here and learn the exact same issue is happening with my 2011 Jeep Grand Cherokee!! I can honestly say I have purchased my last Chrysler/Dodge/Jeep vehicle." - Gainesville, Florida
"Our car wouldn't start at all so had it taken to the dealership. After 3 days of testing and renting a car we had to spend $1,300 to get it fixed." - Raleigh, North Carolina
"The Jeep has had many symptoms such as horn blowing without prompt, not starting , no headlights, sunroof opens and closes at will, loud humming noise from under the Jeep. When will this end?" - Casa Grande, Arizona
- Read more 2011 Jeep Grand Cherokee TIPM complaints.
- Read TIPM complaints about the 2011 Dodge Durango.
CAS said in its petition that Chrysler ordered two previous recalls about the TIPMs, one in 2007 and another in July 2013.
The 2007 recall involved model year 2007 Jeep Wranglers and Dodge Nitros that could stall because the TIPM would reset itself due to a timing error in the software.
In the 2013 recall, air bags were failing to deploy in Chrysler vehicles. CAS says some of the vehicles had the TIPM reprogrammed, but the repair made only a small dent in the massive number of vehicles with defective TIPMs.
In November 2013, a class-action lawsuit was filed against Chrysler alleging defective TIPMs in the 2008 Chrysler 300 and 2011-2012 Jeep Grand Cherokee, Dodge Grand Caravan and Dodge Durango.
At the time of the lawsuit, a Chrysler spokesman said "it would be inappropriate to comment on this matter as it is currently in litigation."
In an article by the New York Times, Chrysler said it's "actively investigating customer complaints and analyzing returned Total Integrated Power Module (T.I.P.M.) parts in its effort to diagnose the source of various issues experienced by customers."
CAS says just the fact that a vehicle can stall should be enough to open an investigation or order a recall based on a safety defect. The petition says the government was involved in a series of defect cases in the 1970's where federal courts ruled that a loss of power on a road is indeed a safety defect.
"Given the number and range of complaints related to Chrysler TIPMs, it is time for NHTSA to formally investigate TIPM failures across the board in 2007 and later models." Center for Auto Safety
Read the petition here, or click a model below to read complaints about the Chrysler vehicles named in the petition.