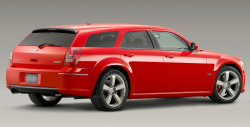 — Chrysler is recalling over 349,000 older-model vehicles for ignition switch problems, although Chrysler says the problem isn't as drastic as ignition switches that inadvertently move out of the "on" position. However, Chrysler is treating it as other ignition switch recalls by warning customers to remove everything from the key.
The affected vehicles are the 2008 Dodge Charger, Dodge Magnum, Chrysler 300, Jeep Commander and Jeep Grand Cherokee. All the vehicles were manufactured before May 12, 2008.
Chrysler says it investigated and found the ignition keys might not return to the "on" position after the key is turned to the "start" position when starting the cars. The automaker said this won't cause the air bags to fail but will cause the windshield defroster and wipers to shut down.
However, Chrysler is not ruling out a chance the key could return to the "accessory" position and cause the vehicle to lose the power brakes, power steering and cause a complete loss of the air bags.
The automaker is aware of one accident but no injuries related to the defect.
Chrysler didn't say when the recall will begin and there was no word concerning what the automaker will do to fix the problem. However, customers are advised to remove everything from the key and always make sure the key is in the "on" position after starting the vehicle.
CarComplaints.com will update the recall information once it's available from Chrysler or the National Highway Traffic Safety Administration.
Read complaints submitted to CarComplaints.com about the vehicles named in the ignition switch recall: