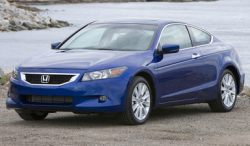 — If you drive a 2008 Honda Accord, you might want to gently close the front doors. Very gently.
The National Highway Traffic Safety Administration has opened an investigation into 363,000 model year 2008 Honda Accords because closing the front doors might trigger the air bags.
Safety regulators have received 28 complaints alleging the side air bags can deploy when a front door is shut. The government says two injuries have been reported involving the driver or passenger side curtain air bag and the side torso/seat-mounted air bags.
CarComplaints.com has heard from 2008 Accord owners about the same problem. In one case, a New York driver said Honda refused to help even with the air bag dangling from the side of the car.
"I go to shut the passenger side door, not slam, but normally shut the door and all of a sudden the side airbag deploys! I bring my car to the dealership, expecting that they would surely fix the matter, instead i get this nonsense about the computer showing that all the systems are working properly and that they will NOT cover it!"
The Honda mechanic said the repair could cost $5,000 and since there was no accident, the insurance company might not pay a dime.
The government isn't giving any clue what they think the problem might be, if there is a problem. The investigation should determine if a safety defect exists, and if 363,000 Accords need to be recalled.