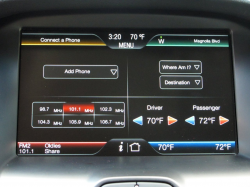 — A federal class-action lawsuit claims the MyFord Touch communication and navigation system is so flawed that it's a danger to drivers.
Ford Fusion owner, Sandra Storto, filed the lawsuit accusing Ford of deceptive trade practices, fraud, and warranty violations. Storto says the system, which includes the GPS, radio, and heat/cold controls, isn't worth the money because it's a flawed product that nothing can fix.
According to the lawsuit, even trying to update the software can cause major headaches.
"Although Ford has attempted to correct the issues with the MyFord Touch system in class vehicles with software updates, these updates have not resolved the issues that plaintiff and the other class members have experienced with their systems. Indeed, in some cases, the updates have made performance of the MyFord Touch system worse."
The MyFord Touch system costs about $1800 and has been installed in Ford, Lincoln and Mercury vehicles since 2011. But according to the lawsuit:
"Had plaintiff and the other class members known of the defects in the MyFord Touch system at the time of purchase or lease, they would not have purchased or leased class vehicles, they would have paid substantially less for the vehicles, or they would have purchased or leased Ford manufactured vehicles not equipped with the MyFord Touch system, if available, at a reduced price."
A different class-action lawsuit was filed against Ford and their MyFord Touch system in July, 2013. That lawsuit claims Ford knows of the problems, having issued several technical service bulletins and software updates.
The plaintiffs allege the system is a safety hazard because it often fails and can cause serious problems with the defroster and rear-view camera.