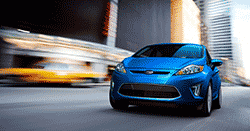 — Ford Fiesta door latch problems have caused the National Highway Traffic Safety Administration (NHTSA) to open an official defect investigation into 205,000 model year 2011-2013 Ford Fiestas.
The government says it's received 61 complaints about doors that won't latch in the 2011-2013 Ford Fiesta. Some Fiesta owners said the doors opened after being shut and while the cars were moving. One person reported an injury after the door flew back open and struck the individual.
Additionally, even though the doors were thought to be shut, most owners said the "door ajar" light was illuminated on the dash.
Ford Fiesta owners tell CarComplaints.com that replacement latches have been tough to get and the broken latch can mean a dead battery.
"I took the 2011 Fiesta to my Ford service department well over a week ago to have a rear door latch replaced. They are unable to get the correct part at the current time due to what they have told me is a back-order of more than 2500 of the same part nationwide for the 2011 Fiesta. Without the door latching, the battery has to be unhooked when the car is not being driven or the battery will go dead." - Rio Rancho, New Mexico
Another Ford Fiesta owner said the only way to keep the door closed is by strapping it shut.
"Closed rear passenger door after putting a bag in the car. Started to back out of parking spot when dash display said "door open." Pulled door closed...same thing. Got out. Door latch had completely failed. I now have door bungied closed for three weeks. Contacted Ford and was contacted by local dealer. That was two weeks ago. Called back on Aug. 23, they know nothing or have done nothing. Major safety issue. Cannot use back seat for passengers at all." - Maryville, Tennessee
The government calls the Ford Fiesta door latch investigation a "preliminary evaluation" which can be the first step toward a more in-depth investigation or a nationwide recall.