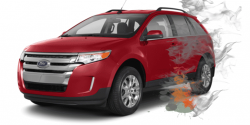 — Ford is once again recalling their Edge car over fears of fire from a fuel leak. Ford recalled the 2012 Edge in September, 2012, because of the exact same problem.
Ford says this latest recall affects model year 2012-2013 Edge cars equipped with 2.0L engines. Just as with the 2012 recall, the fuel line pulse damper metal housing might crack because of a manufacturing error. Once cracked, a continuous gas leak could occur while the system is pressurized.
At the least you would smell a fuel odor. At the most, one little spark could cause a fire.
Ford says even if your car was "fixed" under the previous recall, you must go through the process again, which is scheduled to begin on February 28, 2014. Ford dealers will replace the fuel line with one that does not have a damper.
Owners can contact Ford at 866-436-7332 and use recall number 13S13.