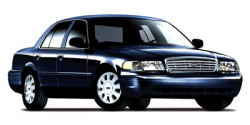 — The National Highway Traffic Safety Administration (NHTSA) has closed its investigation into reported steering problems in 500,000 Ford cars. NHTSA opened the investigation in July 2014 after complaints about exhaust manifold heat shields coming loose and interfering with the lower steering shaft.
The investigation focused on the 2004 to 2007 Ford Crown Victoria, Mercury Grand Marquis and Ford Marauder that can experience steering difficulties, especially an increased effort in turning the steering wheel. Once the exhaust manifold heat shield was repaired or removed, the steering returned to normal.
NHTSA received a limited number of complaints and only one report of a possible crash, but safety regulators found the description in the crash complaint didn't match the accident police report.
Data submitted by Ford showed the cars experienced a rate of 1.6 incidents per 100,000 vehicles sold, with all the cars in service from seven to 11 years. Ford said that amounted to a total of 10 incidents, six occurring in the same fleet of state police cars. That fleet fixed the problems in 2011 and there have been no failures since then.
There were also five warranty claims in the Ford vehicles but all the incidents appeared to be caused by loose or missing hardware, not from a defect or corrosion.
Although the steering investigation is closed, NHTSA says it will continue to monitor the Ford cars for additional complaints and take action if needed.