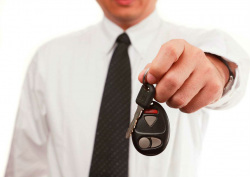 — The National Highway Traffic Safety Administration announced they will look into why it took General Motors 10 years to recall cars that had a known safety defect.
Those cars - the 2003-2007 Saturn Ion, 2006-2007 Chevy HHR, 2006-2007 Pontiac Solstice, 2006-2007 Saturn Sky, 2005-2007 Chevy Cobalt and the 2007 Pontiac G5 - each have an ignition switch with serious problems.
GM said the switch can move out of the "run" position and cause the engine to shut off thereby disabling the air bags. One bump from a crash could do it, but GM also knew something as simple as items on a key ring could cause the switch to fail.
GM said they traced the problem to 31 accidents, along with 13 front-seat fatalities where the air bags failed to deploy. The current recall includes over 1,300,000 vehicles and has GM playing defense as to why these cars weren't recalled years ago.
The Cover Up
Joan Claybrook, former head of the National Highway Traffic Safety Administration, told CBS News that GM committed an "immoral act" by covering up the defect. Claybrook said,
"This is an immoral act by General Motors to cover up this defect, not tell people and then the result was inevitable, that people were going to die and be injured and that to me is unconscionable. It's like throwing an airplane passenger out without a parachute."
Owners Have Been Telling This Tale For a While
Owners of the recalled vehicles have complained for years about problems with the ignition switch. While the recall involves the switch moving out of position, affected owners tell CarComplaints.com of another problem with the same ignition switch.
Beginning with the 2003 Saturn Ion, owners complain how keys get stuck in the ignition switch or won't turn at all. Check out what owners say about the ignition switch in some of the recalled models, especially the 2005 Chevy Cobalt.
A History of Complaints