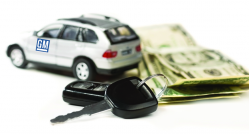 — General Motors is in more trouble than most of us thought, at least according to its regulatory filing that admitted GM is facing about 60 pending class-action lawsuits related to an ignition switch defect. The disclosure shows 55 class-action lawsuits filed in the U.S. and five in Canada.
The lawsuits focus on an ignition switch that can move out of the "run" position just by having items on a key ring. The affected cars include the:
If this isn't enough to scare investors and customers, GM said they are involved in five government investigations related to the defective ignition switch. The agencies include the U.S. Attorney's Office for the Southern District of New York, the U.S. Securities and Exchange Commission, the National Highway Traffic Safety Administration, Congress, and a state attorney general.
Most of the investigations relate directly the long 10-year delay in recalling cars with a known safety defect. However, GM is under the microscope of the Securities and Exchange Commission because of possible misleading statements concerning daily business operations of the automaker.
One class-action suit has already been filed in Michigan because investors might have been mislead. The complaint alleges GM hid from investors and regulators that criminal and civil litigation could arise from the defective ignition switch.
GM says it's too early to estimate how much damage it will endure because of the investigations and lawsuits. However, GM's first-quarter profit nosedived by 88 percent because of the recalls alone.
"Although we cannot estimate a reasonable range of loss based on currently available information, the resolution of these matters could have a material adverse effect on our financial position, results of operations or cash flows."
GM also announced they have shipped thousands of repair kits consisting of ignition switches, ignition cylinders and key sets. "Thousands" might sound impressive but it's a limited number compared to the 2.2 million cars that need repairs.
Additionally, GM announced dealers delivered 2,416,028 vehicles worldwide in the first quarter of 2014. But even that seems a small number compared to the six million vehicles GM recalled in the first quarter of 2014.