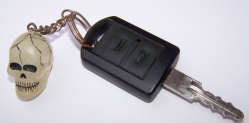 — General Motors is recalling over 8 million vehicles in separate recalls taking in models going back to 1997. GM said it's aware of three fatalities, eight injuries and seven crashes, all related to ignition keys that move out of the "run" position. However, GM says there is no "conclusive evidence" the ignition defect caused those crashes.
GM didn't release much information about the recalls, other than to say the huge number of recalled vehicles is all part of GM's "most comprehensive safety review in the history of our company because nothing is more important than the safety of our customers."
The National Highway Traffic Safety Administration hasn't released any information about when the recalls will begin or what repairs GM will make to the vehicles.
Click on any model to read complaints submitted to CarComplaints.com about that model.
Ignition Switch/Key
GM is recalling about 7.6 million vehicles haunted by what GM calls, "unintended ignition key rotation."
* The 2014 CTS doesn't include all models, only the 264 coupe and wagon body styles that were built before the redesigned CTS sedan was launched.
Electrical Short
Almost 189,000 GM vehicles could have an electrical short in the driver's door module that could cause the power windows and locks to fail. GM said the defect is bad enough the module could overheat.
Heater Cord
About 20,000 cars have insulation on the engine block heater cord that can become damaged during very cold conditions. GM didn't say exactly what the consequences are if the cord is damaged, so we're stuck with using our imagination.
Smoke and Fire
Never a good combination unless you're building a bonfire. GM says about 12,000 heavy-duty trucks equipped with an auxiliary battery can experience an electrical overload. The fusible link under the hood can melt from the overload and there's your smoke and flames. GM didn't say what dealers will do to put out the potential fires.
Loose Joint Fastener
GM didn't explain what this means, but 117 vehicles may not have had a "superhold" joint fastener torqued to specification during manufacturing.
By GM's count, and for those of you with a calculator, the automaker has recalled almost 29 million vehicles in 54 separate recalls since the beginning of 2014.