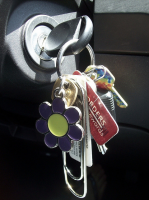 — General Motors is recalling over 780,000 model year 2005-2007 Chevrolet Cobalt and model year 2007 Pontiac G5 cars because the airbags could fail to deploy in a crash. GM says 619,122 cars are in the United States, 153,310 are in Canada and 6,130 are in Mexico.
What's Causing the Airbags to Fail?
According to documents filed with the National Highway Traffic Safety Administration, the problem is caused by the torque performance of the ignition switch. Just having extra items hanging from your key ring could cause the airbags to fail to deploy, essentially because the car would be shut off.
GM says the weight on the key ring, road conditions or the impact from a crash could the ignition switch to move out of the run position, turning off the engine.
GM reports six front-seat fatalities in crashes that occurred at high speeds and off the road where the airbags failed to deploy. However, they note some occupants were not wearing seat belts and with the combination of that and the high speeds, an airbag might not have been enough to save anyone.
The automaker says they know of 17 other front-impact crashes where the air bags failed to deploy, although there were no reports of fatalities.
What Owners Should Do
GM is asking affected owners to remove any items from key rings that are not important and essential. GM dealers will replace the ignition switch on all affected cars, but they haven't said when the recall will start.
If you've already had the problem repaired, let GM know because they will provide reimbursement. Owners can contact Chevrolet at 800-222-1020 or Pontiac at 800-762-2737 and refer to recall number 13454.