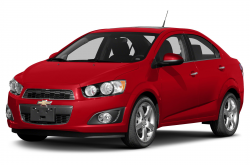 — General Motors is recalling almost 3000 vehicles that use a specific block heater. GM named the recalled vehicles as the 2013-2014 Buick Encore, Buick Verano, Chevy Cruze and the 2012-2014 Chevy Sonic.
The affected vehicles are equipped with Calix oil pan/block heaters. The insulation on the engine block heater cord can become damaged in cold temperatures and cause the wires to be exposed. Touching exposed wires when the cord is plugged in could give you one heck of a headache.
GM says the recalled vehicles have specific manufacturing dates.
2013-2014 Buick Encore: Manufactured August 23, 2012, to September 9, 2013.
2013-2014 Buick Verano: Manufactured August 8, 2012, to June 20, 2013.
2013-2014 Chevy Cruze: Manufactured August 7, 2012, to August 16, 2013.
2012-2014 Chevy Sonic: Manufactured May 10, 2011, to August 16, 2012.
GM hasn't announced when the heater cord recall will begin, probably because the automaker is too busy with about 70 other recalls. GM dealers will replace the engine oil pan/block heater cord with a new cord that is rated for temperatures of minus 40 degrees Celsius.
Shocked owners can contact Buick customer service at 800-521-7300 or Chevrolet customer service at 800-222-1020 and refer to recall number 14257.
Read what owners say about the cars named in the heater cord recall: