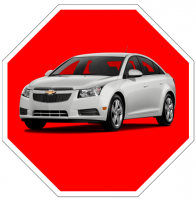 — General Motors has ordered dealers to stop selling 2013-2014 Chevy Cruze cars for the second time in three months and ordered a recall of 29,000 cars.
About three months ago, GM ordered dealers to stop selling the 2013-2014 Chevy Cruze, at that time without saying why. However, a day later GM recalled 172,000 model year 2013-2014 Chevy Cruzes to replace a right front axle half-shaft that could break.
At least this time we know why GM has issued the stop-sale order and recall.
According to the automaker, it all is traced to the defective air bags supplied by Takata, the same supplier that is the focus of millions of other recalled vehicles. However, the problem with the air bags in the Cruze seems to be different than past Takata defects.
While Honda, Toyota, Ford, Mazda, and BMW just days ago recalled vehicles with metal inflator canisters that could explode, those were older model vehicles. GM says the 2013-2014 Chevy Cruze has a problem with the inflator module, but it's blamed on a specific bad part that came from a bad batch of parts.
GM originally said the stop-sale order affected about 33,000 cars but revised the total number of recalled cars to 29,000.
The National Highway Traffic Safety Administration hasn't released information as to when the recall will begin, but GM dealers are expected to replace both front air bags in the Chevy Cruze.
If you own a 2013-2014 Chevy Cruze and have questions about your car, call Chevy at 800-222-1020.