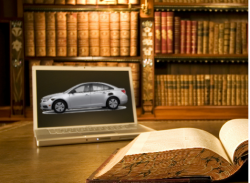 — A Georgia woman has sued General Motors after claiming her 2013 Chevy Cruze air bag exploded and blinded her in one eye.
Brandi Owens, of Forsyth County, Georgia, filed the lawsuit after claiming she was driving in stop-and-go traffic when she rear-ended another car at a very slow speed. The October, 2013, accident caused the air bag to explode to the point of detaching from the steering wheel. Owens was struck in the face and suffered a rupture to her left eye, leaving her permanently blind.
The 2013 Chevy Cruze was equipped with Takata air bags, the same company accused of supplying defective air bags to numerous automakers.
The lawsuit says GM knew or should have known the Cruze was dangerous because a slow-speed impact could cause the air bags to deploy and explode, even though that type of crash shouldn't activate the air bags.
Calling the 2013 Chevy Cruze "defective and unreasonably dangerous," Owens is demanding a jury trial and seeking unspecified damages.
Just days ago GM issued an order to dealers to stop selling the 2013 Chevy Cruze, then a day later issued a recall of 29,000 cars. Citing a defective metal canister called an "inflator" in the Takata air bags, GM said the recall was unrelated to other Takata exploding air bag recalls.
Millions of vehicles have been recalled because of Takata air bags with metal inflators that can explode, but those recalls involve older-model vehicles. The National Highway Traffic Safety Administration says the 2013 Chevy Cruze has a bad inflator but it's not the same inflator used in the older vehicles.