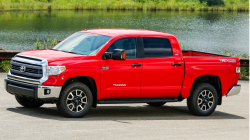 — Not all car recalls have to be direct from the manufacturer, as in the case of Gulf States Toyota, Inc., one of only two independent distributors of new Toyota vehicles.
The National Highway Traffic Safety Administration (NHTSA) says Gulf States is recalling over 16,000 model year 2013-2014 Toyota Tundra pickup trucks. Even though the recall is through a distributor, it's as important as any recall directly from Toyota, especially considering the wheels could fall off the trucks.
NHTSA says the trucks were modified by Gulf States Toyota and equipped with non-Toyota 20-inch alloy wheels and chrome-plated lug nuts. That's a bad combination as the coating on the lug nuts can cause the nuts to loosen or the wheel studs to break. Either event could cause the wheels to fall off the trucks.
Tundra drivers would probably feel a vibration in the steering wheel or hear a noise from the affected wheel if the nuts start loosening.
Owners who purchased a 2013-2014 Toyota Tundra from Gulf States Toyota should watch for notification in the mail. Dealers will need to replace all 20 lug nuts on the trucks.
With questions or concerns, contact Gulf States Toyota at 800-444-1074.