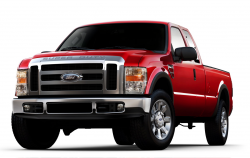 — Ford has been cleared in an eight-month investigation of 330,000 model year 2008 F-250 and F-350 Super Duty trucks after complaints about a complete loss of steering. The National Highway Traffic Safety Administration (NHTSA) has closed their investigation after finding no evidence of a defect in the steering gears.
NHTSA had investigated the same problem with steering gears in 2003. That investigation focused on steering gear sector shaft fractures in 1.3 million 1999-2001 Ford Super Duty trucks and 2000-2001 Ford Excursion SUVs.
The investigation closed in August, 2003, and found the sector shaft failures were "the result of extraordinary, possibly multiple, impacts and not the result of fatigue."
Just as with the complaints from 2003, the recent investigation was opened after owners reported a loss of steering, with some incidents leading to accidents. NHTSA said the recent reports show evidence of damage from incidents such as curb strikes and other impact forces to the truck.
As in the 2003 investigation, NHTSA said the accidents weren't caused by a defect in the steering gears, but the steering gears failed because of crash forces.
NHTSA will monitor the issue and take further action if warranted.