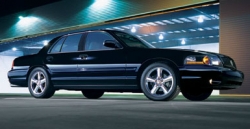 — The National Highway Traffic Safety Administration has opened an investigation into 500,000 Ford cars because of steering problems.
The investigation will focus on model year 2004-2007 Ford Crown Victoria, Mercury Grand Marquis and Mercury Marauder cars because bolts could rust and cause a loss of steering control. How that happens is more complicated than it sounds.
Based on complaints about the problem, owners claim rusted bolts can cause the driver's side exhaust manifold shield to fall off and get stuck between the manifold and steering shaft. It's pretty much over once that happens because the ability to turn the steering wheel will be lost.
One driver said they entered a highway entrance ramp when the steering locked and they couldn't turn the wheel. The car hit the curb and rolled three times down an embankment, coming to rest after hitting a concrete barrier. The heat shield from the driver's side exhaust manifold was found under the car.
The driver allegedly suffered neck and back injuries and a loss of work due to the injuries.
The investigation will determine if a defect exists and if the investigation should be expanded or if 500,000 Ford cars need to be recalled.