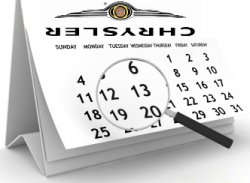 — It's been four years since the National Highway Traffic Safety Administration (NHTSA) opened an investigation into rear-impact fires in several models of Jeep vehicles. At one point almost five million model year 1993-2004 Jeep Grand Cherokee, 1993-2001 Jeep Cherokee, and 2002-2007 Jeep Libertys were involved.
Chrysler repeatedly claimed the Jeeps were safe, while the Center for Auto Safety said the location of the gas tank had caused 478 crash-related fatalities.
Chrysler Begrudgingly Agrees to a Jeep Recall ... of Sorts
NHTSA asked Chrysler to recall 2.7 million vehicles in June, 2013, a request Chrysler refused. Eventually Chrysler said they would order a recall, but only on 1.5 million vehicles instead of the 2.7 million requested by the government.
It's been 10 months since Chrysler recalled the Jeeps and owners are still waiting for their vehicles to be repaired. Although "repair" might not be the correct word. Chrysler agreed to install trailer hitches on the recalled Jeeps, a "fix" that will allegedly help protect the gas tank and fuel system in a rear-impact crash, at least at slow speeds.
Safety advocates question why a device used to tow trailers would provide protection in a crash, especially since Jeep rear-impact fires occurred on vehicles already equipped with trailer hitches. However, NHTSA has no objections to using a trailer hitch and has given Chrysler time to manufacture the hitch.
Jeep owners? They still wait, nearly a year after receiving recall notices.
Read what owners say about the Jeep Grand Cherokee, Jeep Cherokee, and the Jeep Liberty.