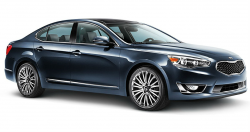 — Driving through a pothole can take its toll on a car, but driving through a pothole in a 2014 Kia Cadenza could mean tires flying off the wheels or wheels left on the ground.
The National Highway Traffic Safety Administration says 3,107 Cadenzas equipped with 19" non-chrome aluminum wheels are at risk because of a manufacturing error.
Kia learned of the problem in November, 2013, but thought it was probably an isolated incident caused by an external impact. By April, 2014, seven reports of fractured wheels had been submitted to Kia and a subsequent investigation determined the wheels weren't up to specifications.
Cadenza owners complained about wheels splitting at the circular surface of the rim which left the wheels touching the road.
The Kia Cadenza recall should begin this month. Kia dealers will replace all the wheels with stronger wheels. Cadenza owners can contact Kia customer service at 800-333-4542 and give them recall number SC107.
Not interested in Kia exploding wheels? Maybe Kia exploding sunroofs would better suit your taste.