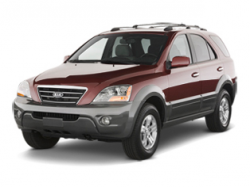 — A Kia Sorento class-action lawsuit over engine problems is proceeding based on claims model year 2002-2009 Kia Sorento SUVs have front pulley balancers that can break and cause engine failure. The lawsuit claims Kia had "longstanding knowledge of the problem" but intentionally didn't tell customers about the allegedly defective crankshaft assemblies.
Further, the Kia class-action lawsuit claims there are "latent defects" in the 2003-2005 Kia Sorento that have a "defective . . . crankshaft pulley bold and balancer," which could result in "breaking off the spring guide pin," causing "catastrophic engine failure."
The Sorento lawsuit alleges the engine defect can cause the SUVs to stall without warning and cause a loss of vehicle control. Additionally, plaintiffs allege damages in the form of "costly repairs," and "diminished intrinsic resale value."
Owners of the Kia Sorento have written to CarComplaints.com about engines that would stall without warning, sometimes leaving dealers scratching their heads as to the cause.
"...I don't have ANYTHING good to say about Kia. First off, I had my fuel filter and charcoal canister replaced. I have a Kia Sorento. Then my car started having problems. I cannot go anywhere on the highway because after about 15 minutes, my car automatically slows down." - 2003 Kia Sorento owner / Goose Creek, South Carolina
"This Kia randomly just quits running while driving down the road. It has happened several times now and my wife can barely get of the road safely because everything like power steering etc also stop. I have talked to our local dealer but they say they can't pin it down because it is intermittent." - 2003 Kia Sorento owner / Fruit, Colorado
The Sorento lawsuit alleges Kia uses misleading advertising to market the Sorento and makes money by performing unnecessary repairs not related to the real issues.
Additionally, the plaintiffs claim Kia didn't repair the vehicles properly even when the SUVs were still under warranty.
The Kia Sorento engine problems class-action lawsuit was filed in the U.S. District Court for the District of New Jersey - Robinson et al v. Kia Motors America Inc. et al.
The plaintiffs are represented by the Law Office of Shmuel Klein PC.