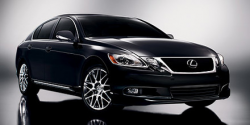 — Lexus is recalling 422,000 model year 2007-2010 Lexus LS cars, 2006-2011 Lexus GS vehicles and 2006-2011 Lexus IS vehicles because they can catch on fire.
Lexus says the fuel delivery pipes in the engine compartment have nickel phosphate plating to protect against corrosion. Some of the pipes could have been manufactured with plating particles on the gasket seating surface where the fuel pressure sensor is installed. This can cause the sealing property of the gasket to fall apart which can cause gas to leak past the gasket.
Leaking gas means a possible fire if the gas hits an ignition source.
Lexus says the recalled Lexus LS cars were manufactured May 9, 2006, to July 20, 2010; the Lexus GS vehicles were manufactured January 6, 2005, to September 10, 2010 and the Lexus IS cars were built August 30, 2005, to September 10, 2010.
The recall should begin in December 2014. Lexus dealers will clean and reseal the fuel pressure sensor mounting area.
Lexus owners can contact customer service at 800-331-4331.