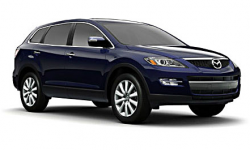 — The National Highway Traffic Safety Administration has opened an investigation into possible braking problems in 62,000 model year 2010-2011 Mazda CX-9 cars. It's not the first time the CX-9 has been under the government microscope for brake problems.
The government closed a similar investigation on April 9, 2012, after reports of leaking master cylinders in the 2008 Mazda CX-9. Investigators found an issue with the master cylinder plunger that could cause brake fluid to leak into the brake booster.
Safety regulators closed the investigation based on the extremely slow leak rate and its effect on brake performance.
The current investigation is different because owners report numerous symptoms, including possible loss of power assist to the brakes, an increased effort to use the brakes because the pedal is hard to push, and an overall feel the brakes aren't working as intended.
Additionally, some owners say they can hear a hissing sound when they use the brakes.
The current investigation will try to find the cause and determine if a recall should be ordered.