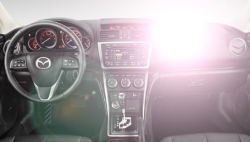 — Mazda Motor Corp. will have to answer if the 2009-2011 Mazda3 and Mazda6 have dashboards that melt in the sunlight and cause occupants to be blinded due to a reflection from the dashboard.
Two Mazda owners have filed a class-action lawsuit alleging material used in the dashboards is prone to failure in direct sunlight. The lawsuit alleges the problem is so bad the dashboard should be classified as a safety defect because of how shiny the dashboard becomes over time. Owners complain the reflection of the sunlight onto the windshield is literally blinding to the point of having trouble seeing the road.
According to the Mazda lawsuit, the automaker knows about the problem after years of complaints to dealerships and to the government. CarComplaints.com has also heard from upset owners of Mazda cars with melted and cracked dashboards.
"My dashboard of Mazda3 2010 has been melting and continues to melt. I have taking to dealer several times but they don't want to assume charges claiming I did it when I haven't. ..They tell me for 700 dollars they can fix it. It's so unfair when I paid for a car that in 4 years starts to melt inside. It's also dangerous when driving because the glare gets in your way. I believe its a safety hazard to drivers." - 2010 Mazda3 owner / North Miami, Florida
"The problem was reported to the Mazda dealer who elevated it to Mazda but they said there must be some sort of chemical spill over the dash. This is false, nothing like this ever happened and the dash deformation was direct result of sunshine which shows bad material used by Mazda." - 2010 Mazda3 owner / Ovideo, Florida
The lawsuit says Mazda should cover the cost for repairs because the dashboards weren't built to withstand the heat and sunlight in states like California, Florida and other hot-weather areas.
The Mazda melting dashboard lawsuit was filed in the U.S. District Court for the Central District of California - Stedman, et al. v. Mazda Motor Corporation, et al.
The plaintiffs are represented by Girard Gibbs LLP, and Greg Coleman Law PC.
Melting dashboards in Mazda cars might sound like something new to some people, but it's certainly been a problem before with other automakers.
In August 2014, melting dashboards were the main topic in a class-action lawsuit against Lexus and its parent company, Toyota.