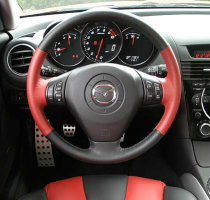 — The Takata air bag saga continues as Mazda recalls 160,000 vehicles globally, including 35,000 originally sold in, or currently registered in Florida, Puerto Rico, and Hawaii. Mazda names the vehicles as the 2003-2007 Mazda6, 2006-2007 Mazdaspeed6, 2004 MPV, and 2004-2008 RX-8.
The Mazda recall is connected to other air bag recalls from Toyota, Honda, and BMW, two of those announced at the same time by the National Highway Traffic Safety Administration. The problem is the important metal canister in the air bag called the inflator. Without it the air bag won't work, but the faulty Takata air bags have inflators that can explode when the air bags inflate.
Not a nice thought knowing sharp metal fragments could slice you to pieces while you're trying to deal with a car crash.
The regional recall is based on testing by Takata that shows high absolute humidity can create moisture inside the air bag. Mazda says both frontal air bags have the defective inflators that will need to be replaced, although the automaker doesn't know when repairs will be made by dealers.
Concerned owner should contact Mazda customer service at 800-222-5500 and give them recall number SSP96.
Update - July 28, 2014: Mazda expanded the recall by more than 18,000 model year 2003-2004 Mazda6 vehicles and 2004 RX-8 cars.
If you own one of the recalled cars or are thinking about buying one, check out what owners complain about the most about their Mazda cars. Click a model name below.