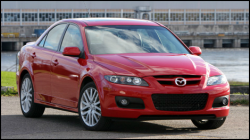 — Mazda is recalling another 40,000 vehicles related to exploding Takata airbags, but it's a recall the National Highway Traffic Safety Administration (NHTSA) probably won't be happy to hear about.
Mazda first recalled the vehicles in October 2014, those vehicles being the 2003-2007 Mazda6, 2004-2008 RX-8, 2006-2007 Mazdaspeed6, 2004-2005 MPV and 2004 B-Series trucks.
NHTSA has demanded all Takata driver's side airbags be recalled and repaired nationwide, but this latest Mazda recall is only an expanded regional recall.
The automaker says only vehicles in the following areas will be recalled: Florida; Puerto Rico; Hawaii; Saipan; Guam; American Samoa; U.S. Virgin Islands; Georgia; Alabama; Louisiana; Mississippi and Texas.
The October Mazda recall including only the following areas: Florida, Hawaii, Puerto Rico and the U.S. Virgin Islands.
Those areas are known for high absolute humidity which is thought to cause problems with the Takata airbag inflators. It's those metal inflators that are exploding and sending shards of metal into vehicle occupants.
Mazda says it is working closely with Takata to get the needed replacement airbag inflators, all while Takata is still trying to learn what is the root cause of the exploding inflators.
Read what owners say about the Mazda6, RX-8, Mazdaspeed6, MPV and B-Series trucks.