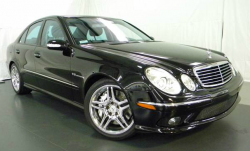 — Following a federal investigation into problems with the gas tanks, Mercedes-Benz is extending its original warranty to 15 years on gas tank components in 2003-2009 E-Class vehicles and 2006-2011 CLS-Class vehicles.
The National Highway Traffic Safety Administration (NHTSA) originally opened the investigation in early 2012 based on complaints about the 2003-2006 Mercedes-Benz E55 AMG. The investigation was expanded in 2013 based on new complaints about E-Class vehicles. Mercedes owners kept complaining about smelling a strong odor of gasoline inside and outside of the cars, even more so after putting gas in the cars.
Owners said the odors would decrease after driving for a while but gas would still sometimes leak from the fuel filter.
The government investigation determined leaks could occur from the gas tank pressure sensor, the outlet of the gas tank filling limiter valve and at the top of the fuel pump.
Once the gas tank is full, gas can leak from small cracks and collect on top the fuel filter, pump and the tank. Although some owners said gas would enter the cars and reach the rear seat, the investigation found no way for this to occur.
NHTSA said it has closed the investigation based on the belief the nature of the leaks isn't a serious safety hazard. Further, NHTSA says the Mercedes-Benz warranty extension will be good enough to prevent a recall of the vehicles.
Mercedes-Benz is extending the original warranty coverage to 15 years and unlimited mileage on "Covered Fuel Tank Components" in 2003-2009 E-Class vehicles and 2006-2011 CLS-Class vehicles. The covered fuel tank components for the warranty extension include the fuel tank, fuel filter/sender, fuel pump, and all related gaskets/seals and retention rings.
As mentioned earlier, NHTSA said it found no evidence for back seats affected by leaking gas, however, a lawsuit was filed against Mercedes-Benz based on that claim.
A New Jersey resident filed the lawsuit against Mercedes alleging 2003-2009 W211 E-Class cars leak gas to the point of causing the back seats to get wet.