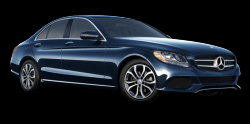 — Mercedes-Benz will be forced to lower its fuel economy values that appear on the stickers of model year 2013-2014 Mercedes-Benz C300 4-matic models.
The Environmental Protection Agency (EPA) says the Mercedes-Benz FFV and PZEV have been sold with overstated mileage values since the introduction of the cars. Although the fuel economy will lower by only one mile-per-gallon, Mercedes will be required to re-label all the affected cars.
When a new car is introduced into the market, it's the manufacturer that decides how many miles per gallon of gas a car should get in city, highway and combined city/highway driving. For its part, EPA performs fuel economy testing on a number of vehicles yearly to make sure the mileage and emissions data matches what the automakers submit to EPA.
EPA calls these procedures "spot-checks" to make certain all automakers are following the same procedures for figuring mileage estimates.
Once EPA realized its data wasn't matching data supplied by Mercedes-Benz, the automaker performed its own testing with government authorities keeping an eye on the test.
Regulators discovered the original numbers reported by Mercedes underestimated the effect of aerodynamic drag and tire rolling resistance known as "road-load." The error wasn't enough to throw the cars out of compliance with EPA emissions standards, but it was enough to change the fuel economy.
"Even though the adjustments are small, it is important that our oversight system is producing the correct results because even one MPG matters to consumers." - Christopher Grundler, director of EPA's Office of Transportation and Air Quality
This isn't the first time an automaker has been required to lower the mpg ratings on its vehicles. In 2012, Hyundai and Kia had to re-label cars after EPA kept receiving complaints about mileage estimates. Additionally, Ford had to lower the fuel economy ratings earlier this year for its model year 2013-2014 hybrid and plug-in hybrid vehicles as well as most model year 2014 Fiestas.