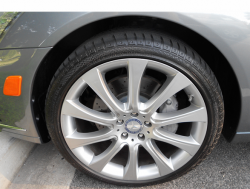 — Did Henry Ford foresee the red tape an automaker must go through to get or keep a car on an American road? Not a chance.
The National Highway Traffic Safety Administration (NHTSA) has safety hoops galore that an automaker must jump through when manufacturing a vehicle, and that applies to foreign companies as well as American.
Mercedes-Benz recently discovered that fact after petitioning NHTSA for an exemption to a federal safety rule about tire pressure monitoring systems.
Mercedes-Benz filed an "inconsequential noncompliance" petition with NHTSA because the tire pressure monitoring systems (TPMS) on certain 2011-2012 Mercedes S-class cars don't exactly meet federal safety rules. Federal rules require if there are tire pressure problems, malfunction lights must flash for 60 to 90 seconds before remaining illuminated.
The malfunction lights on the affected Mercedes-Benz cars work differently, and according to the automaker, better than federal rules require.
Mercedes-Benz said in its petition the TPMS warning lights display the word "Service" on the light, the tire pressure on each wheel, dashes next to each wheel, a symbol indicating problems, and text that says Wheel Sensors Missing.
Mercedes-Benz argued the only thing that could possibly cause a problem would be if an owner put non-Mercedes wheels and tires on the cars. That would remove the sensors that monitor tire pressure. The automaker said the owner manual warns people about what to do to avoid problems with the TPMS sensors.
NHTSA denied the petition, in part because people might not read the manual. The government also said an owner might need to replace the tires and wheels with non-Mercedes-Benz equipment. That equipment wouldn't have the required sensors to operate the tire pressure system.
By denying the petition, Mercedes-Benz will be forced to fix the tire pressure monitoring system in the affected 2011-2012 S-class cars.