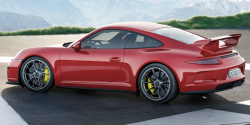 — When you pay $130,000 for a car, you want to know the car won't go up in smoke from a defect. Porsche feels the same way and has told owners of the 2014 Porsche 911 GT3 to park their cars while a fire investigation is underway.
The stop-driving order applies to almost 800 Porsche 911 GT3 sports cars worldwide, 400 of those in the U.S.
Porsche says some type of engine damage occurred in two cars while they were running and on the road. Both cars burned, although no accidents or injuries were reported.
Similar "stop-driving" orders from other automakers usually see the owner being told to park outside in case of fire. Porsche says both fire incidents happened while on the road with the engines running, so currently owners should simply not drive the cars.
Porsche says each car will be taken to a dealer for inspection of the engine. To date, the National Highway Traffic Safety Administration has not released any official information, and no recall has been ordered.