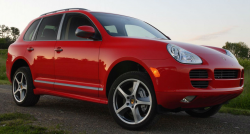 — Porsche has agreed to settle a class-action lawsuit involving over 42,000 U.S. owners of model year 2003 to 2006 Porsche Cayennes.
The lawsuit had been consolidated from eight proposed lawsuits that accused Porsche of using defective plastic cooling tubes that fractured and caused damage to the engine. The plaintiffs alleged Porsche knew the affected Cayennes had problems with the plastic tubes but failed to inform customers.
Porsche argued the tubes failed after the warranties expired, hence they weren't under obligation to repair the cars at no cost. Instead, Porsche charged owners up to $3,600 for a special kit that replaced the plastic pipes with aluminum cooling tubes.
Although Porsche denies any wrongdoing, it agreed to settle the case that gives each affected owner up to $1,800, based on if the tubes already failed and repairs were already made.
The Porsche Cayenne settlement includes current and prior owners or lessees of 2003-2006 Cayennes manufactured with V8 engines between January 28, 2002, through December 5, 2006.
You must file a claim no later than December 12, 2014. Find more information about the Porsche plastic cooling pipes class-action settlement at www.coolantpipesettlement.com.