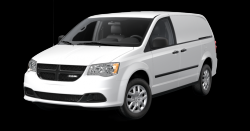 — Air bags are a great safety feature unless they deploy when you don't need them. Chrysler says that occurred 25 times in a five month period in model year 2013-2015 Ram C/V Tradesman cargo vans.
The automaker said the air bags inadvertently deployed after the vans hit potholes. The Tradesman vans are equipped with two front bucket seats and no rear seating. According to Chrysler, the entire problem was traced to a rear quarter panel sensor. That location had the speaker and HVAC systems removed and vibrations in that area triggered the front air bags. The problem was made worse if aftermarket roof racks were installed.
Owners of the 2013-2015 Ram C/V Tradesman cargo van should watch for mailed notification from Chrysler. Dealers will update the software in the occupant restraint control module to block the air bags from knocking you out.
With questions, contact Chrysler at 800-853-1403 and refer to recall number P51.