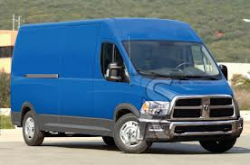 — For the second time in less than a month, Chrysler is recalling their 2014 Ram ProMaster van after finding a problem during internal company testing of the van.
Earlier this month Chrysler recalled the 2014 Ram ProMaster after finding the accelerator pedal could stick in the wide-open position. Today's recall includes over 5,600 vans because a brake hose could leak brake fluid.
Chrysler opened an internal investigation and found that out of 1958 vehicles, 30 vans had a potentially damaged brake hose. Engineers traced the problem to a tool used during the manufacturing process had caught and tore the brake hose.
The Ram ProMaster brake hydraulic system is a diagonal split design where a single brake hose leak could affect brake performance on two wheels, one front wheel and the opposing rear wheel. Leaking brake fluid means a decreased ability of the brakes to stop the van.
The recall is expected to begin in March, 2014. Chrysler dealers will inspect and if needed, replace the brake hoses.
Owners of the 2014 Ram ProMaster can contact Chrysler at 800-853-1403 and refer to recall number P03.