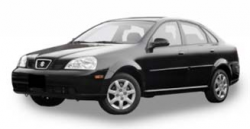 — Suzuki Motor of America is taking a page from a recent GM recall over melting switches that could cause fires.
Suzuki says over 184,000 model year 2004-2008 Forenza and 2005-2008 Reno vehicles have a problem with overheating headlight switches and daytime running light modules. Just two days ago GM recalled 218,000 Chevy Aveo and Optra cars for the exact same problems.
Suzuki says the headlight switch and daytime running light module can melt on the left side of the steering column. Anything that gets hot enough to melt these parts contains enough heat to cause a fire.
As with the GM Aveo and Optra recalls, Suzuki has no idea how it will fix the problem, and the automaker hasn't said when the recall will begin.
Worried Forenza and Reno owners should contact Suzuki at 800-934-0934 and refer to recall number XA. Other than that, if you notice a burning smell or see smoke coming from the left side of the steering column, get the vehicle to a dealer, quick.