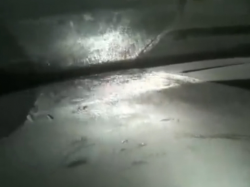 — An alleged Toyota melting dashboard in a 2009 Toyota Camry has led to a proposed class-action lawsuit against the automaker. The lawsuit alleges the Toyota Camry dashboard melted and caused a shiny glare so bad it can blind a driver.
The plaintiff, Melissa Graham, bought a new 2009 Toyota Camry from a Toyota dealership in South Carolina in 2008.
The lawsuit alleges Toyota designed, manufactured and sold model year 2006-2008 Lexus ES, 2006-2008 Lexus IS and 2007-2009 Toyota Camry sedans with defective melting dashboards. The plaintiff says the melting and degradation of the dashboards in the cars occur over time, typically only after the expiration of the warranty coverage.
Melissa Graham claims the melting conditions created a glossy film on the dashboard that made it difficult for her see when the sun reflected off the dashboard.
Toyota's Melting Dashboard TSB
The lawsuit says Toyota issued a technical service bulletin to dealers in 2011 for the 2006-2008 Lexus IS 250 and IS 350 titled "Interior Panels Sticky/Poor Appearance." The bulletin said the cars "may exhibit sticky interior panels that have a shiny/degraded appearance. These conditions may be present on the Instrument Panel Pad and/or the Door Panel Trim. Revised interior panels have been developed to address this condition."
The Toyota lawsuit says the automaker didn't issue a service bulletin about the 2006-2008 Lexus ES or the 2007-2009 Toyota Camry even though the cars have a similar dashboard design.
The plaintiff claims Toyota knew dashboard repairs generally occur outside the warranty period and made owners pay out-of-pocket for repairs. The customers who didn't elect to have their dashboards repaired now allegedly have cars with diminished values. Additionally, the lawsuit alleges Toyota deliberately concealed the defective melting dashboards and how to repair the defect.
The Toyota melting dashboard lawsuit was filed in the U.S. District Court for the District of South Carolina, Charleston Division - Melissa Graham v. Toyota Motor Corp., et al.
The plaintiff is represented by Richardson Patrick Westbrook & Brickman.
In August 2014, a separate but similar lawsuit was filed over dashboards melting in Toyota vehicles after owners said it could cost thousands of dollars to repair the dashboards.