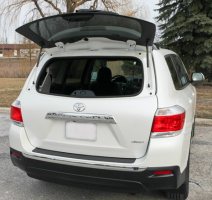 — Toyota has been hit with a class-action lawsuit alleging the Toyota Highlander has a rear liftgate that is defective and prone to become stuck open.
Lead plaintiff Annita Emerson claims the rear liftgate in her 2009 Toyota Highlander got stuck open after the power lift arm broke and caused the hinge to bow. Repairing the liftgate meant shelling out $4,700 because the incident occurred after the 3-year/36,000 mile warranty had expired.
The lawsuit alleges Toyota knew there was a defect in the Highlander liftgate because the automaker issued a technical service bulletin to dealers in 2012. The service bulletin said model year 2008-2012 Highlanders can have rear liftgates that stay open because of gaps between the power lift arm bolts and the rear gates.
Dealers were told to replace the back door hinges and the panel sub-assembly, but only if a Highlander owner complained about their liftgate. Toyota didn't order a recall that would have informed all Highlander owners of the problem and repaired the liftgates at no cost.
Based on the class-action lawsuit, the allegedly defective liftgates are in the following Toyota models:
Highlander XU20
Highlander XU40
Highlander XU50
Highlander Hybrid MHU28
The lawsuit says Toyota knew about the allegedly defective Highlander liftgates as early as 2011 because numerous complaints were filed with the government and other online agencies.
CarComplaints.com has heard from angry 2010 Highlander owners about the same issue of rear liftgates that refuse to shut.
"Lift gate rear door indicator on Multifunction display dings every few seconds and indicates that the rear door is open when it is securely closed. Car will not lock with key fob and glass door on the rear door won't open due to the sensor telling the car that the rear door is open. Only way to stop the dinging is to pull the plug on the whole part in the door panel rendering the rear door useless. Part is insanely expensive to replace and not a guarantee that it will fix the problem." - Sebring, Florida
"The dealership said I must have caused it. All I did was press the button. The arm screws into a weakly threaded piece. Stripped with use. The only solution they had was replace the entire lift gate - not covered in warranty. My last two vehicles - Lexus. Definitely my last Toyota." - New London, North Carolina
The Highlander liftgate lawsuit claims thousands of owners could potentially become members of the class-action lawsuit because of the high number of Toyota owners who have paid out thousands of dollars to fix the alleged defect.
The Toyota Highlander liftgate class-action lawsuit was filed in the U.S. District Court for the Northern District of California - Annita Emerson, et al. v. Toyota Motor North America Inc., et al.
The plaintiff is represented by Ahdoot Wolfson PC, and Morgan & Morgan.