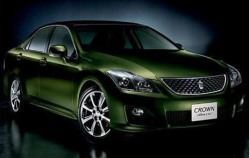 — Toyota is recalling about 1.7 million vehicles worldwide to fix fuel system and brake system problems. The automaker has released only limited information about the recalls.
Toyota says model year 2007-2012 Toyota Crown, Crown Majesta, Noah and Voxy vehicles have rubber seals in the master cylinders that could cause brake fluid to leak. Toyota dealers will replace the rubber seal, and the brake booster will be replaced if fluid is seen leaking.
The automaker says about 190,000 model year 2006-2014 Corolla Rumion and Auris vehicles have defective emission control units that need repaired. The affected vehicles are not equipped with an idling feature.
Toyota is also recalling the Crown and Crown Majesta, Mark X and certain Lexus models to fix fuel delivery pipes that could leak.
The most detailed information released by Toyota is the announcement of 423,000 Lexus vehicles recalled for gas leaks. Toyota names the recalled vehicles as the:
2007-2010 Lexus LS
2006-2011 Lexus GS
2006-2011 IS 2010
2010 Lexus IS C
2008-2010 Lexus IS-F
Toyota says the fuel delivery pipes in the engine compartment have a corrosion inhibitor (plating) that have particles that are on the gasket where the fuel pressure sensor is located. Those particles could allow the gasket to leak and possibly cause a fire.
Lexus dealers will repair the area around the fuel delivery pipe, replace the gasket and re-install the fuel pressure sensor.
Toyota said it's unaware of any accidents, injuries or fatalities associated with the defects.
Toyota and the National Highway Traffic Safety Administration should release more information about the recalls very soon. CarComplaints.com will update this page when that information becomes available.
Toyota hasn't exactly had a popular past four weeks concerning recalls and lawsuits. Check out a few of the automaker's highlights in the past month.